Leidos Inc | Diversity Employer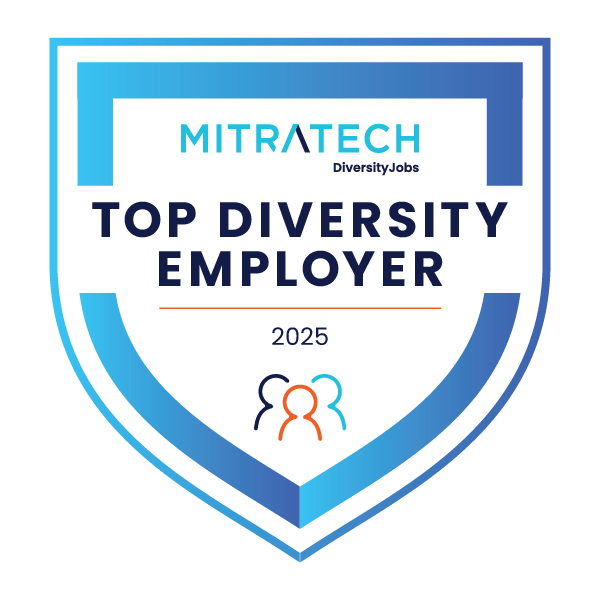 www.leidos.com
Providing Solutions that Transform Business and Change the World
Mission, Vision, and Values
Everything we do is built on a commitment to do the right thing for our customers, our people, and our community. Our Mission, Vision, and Values guide the way we do business. Mission Leidos makes the world safer, healthier, and more efficient through technology, engineering, and science. Vision Become the global leader in the development and application of technology to solve our customers' most demanding challenges. Engage, develop, and empower our diverse and valued people to foster a culture of creativity and growth. Strengthen our communities through volunteerism, sustainable operations, and the advancement of equality. Values
Integrity Is having the courage to make tough ethical decisions, taking pride in our work, being transparent with our team, and being respectful of everyone.
Inclusion Is fostering a sense of belonging, welcoming all perspectives and contributions, and providing equal access to opportunities and resources for everyone.
Innovation Is not limited to our engineers and scientists. It is acting as a catalyst. Being tenacious and curious to help us excel and be a part of a learning organization.
Agility Is being flexible, creative, and resilient. It is our ability to think and act small while using the size and strength of our balance sheet to our advantage.
Collaboration Is being team-oriented and proactively engaging to meet shared objectives. It is about building relationships and staying connected with each other.
Commitment Is being accountable, taking ownership, modeling servant leadership, and operating with a sense of urgency to our customers and teams.
Our values are embodied by our employees Our mission, vision, and values are demonstrated by our 43,000 employees each and every day they are helping our customers execute on important missions on the front lines of the world's most complex markets.
Responsibility & Sustainability
We value our inspired, passionate and united employees. Not only do they further the Leidos mission to provide innovative solutions, they are equally active in their communities, are ethically-minded, and make a positive difference in the world. Our solutions transform business and change the world. We're equally committed to using our time and resources to support people, enrich communities, and protect the environment. This commitment defines our philosophy on sustainability.
Community
We serve our communities, engage our employees, and align our outreach with company business goals.
Leidos actively supports the communities where our employees live and work, providing some of the most inspired and passionate examples of how we are working to make the world safer, healthier, and more efficient. Through our philanthropic efforts, we strive to create a sustainable future, including working side-by-side with community organizations providing critically important services and opportunities to those most in need. United together, our efforts help individuals and families succeed today, as well as position our future generations for success.
An Inclusive Workforce
At Leidos, we believe that a focus on inclusion and diversity improves team performance, influences innovative business strategies and drives positive results by advancing our workforce, cultivating an inclusive workplace and advancing our reputation in the marketplace. Our commitment to inclusion and diversity is reflected in the way we engage our people, our customers and our external partnerships through our innovative programs, sponsorships and engagement.
Leidos Careers
Everything we do is built on our commitment to do the right thing for our customers, our employees, and our communities.
Search among Leidos Inc jobs

Executive Protection Professional
Reston, Virginia
Description Leidos is seeking an experienced Executive Protection Professional in Reston, VA who will have responsibilities within the Leidos Executive Protection Program, Threat Management, and Corporate Security. The preferred candidate m...
14h

Sumter, South Carolina
Description Unleash your potential at Leidos, where we deliver innovative solutions through the efforts of our diverse and talented people who are dedicated to our customer's success. We empower our teams, contribute to our communities, and...
14h

Software License Administrator
Virginia
Description Leidos Corporate Group is looking for a Software License Administrator with an IT Asset Management background to to join our IT Asset Management (ITAM) team located in Reston, VA. As a core member of the ITAM team, you will play...
14h

Newport News, Virginia
Description Gibbs & Cox, a wholly owned subsidiary of Leidos. Since our founding in 1929, 24 classes of combatants and nearly 7,000 vessels have been built to Gibbs & Cox designs. We proudly support military and commercial clients in the U....
14h

Chemical Counter-Proliferation Analyst (Chemical SME)
Reston, Virginia
Description Leidos is a growing company delivering innovative technology and solutions focused on safeguarding critical capabilities and transformation in frontline services, our work includes addressing some of the most complex problems in...
14h

Security Computer and Forensics Investigator
St. Louis, Missouri
Description Looking for an opportunity to make an impact? At Leidos, we deliver innovative solutions through the efforts of our diverse and talented people who are dedicated to our customers' success. We empower our teams, contribute to our...
14h

Material Procurement Requisitioner
Huntsville, Alabama
Description Dynetics, a Leidos Company is seeking a Material Procurement Requisitioner to join a diverse team creating unique solutions for complex programs in our Huntsville, Alabama MidCity location. Primary Responsibilities Completely ma...
14h

Materials Engineering Intern - Advanced Materials
Huntsville, Alabama
Description Leidos Dynetics' Advanced Materials Department is seeking a passionate, detail-oriented problem-solver to serve as Materials Engineering Intern. With offices across the United States engaging in the defense, space, cyber and com...
14h

Arlington, Virginia
Description , a wholly owned subsidiary of Leidos. We proudly support military and commercial clients in the U.S. and internationally with all phases of marine design, construction, and lifecycle management. Our passion is solving our custo...
14h

Satellite Communications Support Analyst
Odenton, Maryland
Description The Global Solutions Management-Operations II (GSM-O II), a Defense Group of Leidos, has an opening for a Satellite Communications Support Analyst supporting the Defense Information Systems Agency (DISA) Joint Operations Center ...
14h